Laser Cataract Surgery is the latest surgical advancement in treating cataracts. Combining the ultra precision of a computer controlled incision and our extensive surgical experience, we are able to treat even the most challenging cases with confidence and outstanding outcomes. When we use our advanced Laser Cataract surgery techniques, combined with the latest Multi-focal Custom Intraocular Lenses, you will have experienced the latest advancement to give you both Distance AND Near Vision after surgery.
At Iworks Laser & Vision Center it is our goal to deliver the most technologically advanced equipment and surgical techniques for your eye health. Dr. Spencer is the only ophthalmologist offering Laser Cataract Surgery in the convenience and comfort of an AAAHC licensed surgical center. His L.A.S.T. (Laser Assisted Surgical Technique) Cataract Surgery utilizes the ultra precision of the LenSx Femtosecond Laser.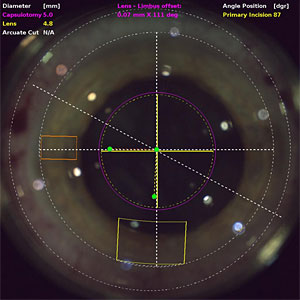 In Laser Cataract Surgery, Dr. Spencer creates a precise surgical plan for the corneal incision with an unprecedented 3-D image of the eye called an OCT (Optical Coherence Tomography).
This allows Dr. Spencer to create an incision with a specific location, depth and length in all planes, and with the OCT image and a femtosecond laser, it can be performed confidently exactly as planned. With our surgical experience and commitment to offer you the best, you will be seeing your best!
If you're looking for the most advanced surgeon, equipment and technology for your cataract surgery CALL FOR A FREE CONSULTATION.