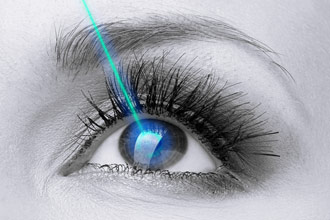 Laser Cataract Surgery is an advanced surgical way to remove a cataract. Dr. Spencer helped introduce the Dayton area to the ultra precision of the Alcon LenSx Femtosecond Laser and was the first to perform it in the safety and convenience of an ambulatory surgical center. If you choose this technology or not, you can be assured of Dr. Spencer's extensive surgical experience to treat even the most challenging cases with confidence and outstanding outcomes.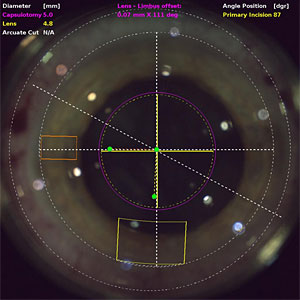 In Laser Cataract Surgery, Dr. Spencer creates a precise surgical plan for the corneal incision with an unprecedented 3-D image of the eye called an OCT (Optical Coherence Tomography). This allows Dr. Spencer to create an incision with a specific location, depth and length in all planes. With the OCT image and a LenSx laser, it can be performed confidently exactly as planned.
Whether Laser or Traditional Cataract Surgery, think about choosing the latest generation Advanced Technology Multifocal Custom Intraocular Lens (IOL). It will have you seeing your best at both Distance AND Near Vision after surgery!
Did you know Dr. Spencer is one of only a few cataract surgeons in the area that can perform your surgery without having to have an I.V.? This can be critical for those with difficult veins or who are afraid of needles.
Did you know Dr. Spencer performs Cataract Surgery in the convenience and comfort of 6 different outpatient surgery centers and local hospitals? That's right. At Iworks Laser & Vision Center it is our goal to deliver the most technologically advanced equipment and surgical techniques for your eye health. Most cases are done with No I.V…No Needles and takes about 10 minutes!
With our surgical experience and commitment to offer you the best, you will be seeing your best! If you're looking for the most advanced surgeon, equipment and technology for your cataract surgery…
CALL FOR A FREE CONSULTATION
…because it's all about seeing your best!
937-226-7870